Omnium
The Omnium is a Pulsed Electro-Magnetic Field (PEMF) therapy device. PEMF has been shown, in many scientific studies and clinics to increase energy, improve sleep, accelerate healing or to precipitate healing responses in the body to previously hard-to-treat symptoms or diseases.
PEMF devices are used in European and American clinics to treat a wide range of conditions. So we compared over 30 PEMF devices for both effectiveness and lack of short or long-term side-effects, (commonly experienced from 'high intensity' PEMF devices). Consequently, we (as well as a growing number of Olympic athletes) now own an Omnium from Swiss Bionic Solutions (SBS).
We have experienced or witnessed ...
More physical and mental energy
Better sleep
Reduction of pain and swelling from injury
Scar elimination
Increased focus and creativity
Reduction of anxiety, depression and hypersensitivities
Elimination of pains in neck, shoulder, urinary tract, digestive system or back
Reduction of EHS [Electro-HyperSensitivity]
"The Omnium mat has been a joy from the very beginning" Christine T, USA
How to purchase
To order an Omnium, please get in touch with us and we can tell you about the current offers and give you correct pricing information for your country.
Unique Personal Support
If you decide you'd like to order an Omnium through Energize Your Life, we include a free hour of support, (which can be spread over several sessions), in which we will help you arrive at the optimal settings for your general well-being and for any conditions you wish to treat. This unique service is based on direct awareness of your energy, not on theoretical settings for particular problems (which we have already found to be quite off-track for some individuals / conditions).
For graduates of the Energy Awareness Training, or if you own a Shendor pendulum, we will also show you how to identify the best settings for you or your family or clients.>
For more information - support@energizeyourlife.org
---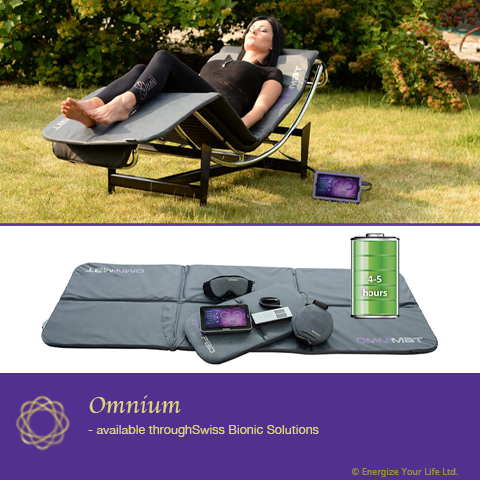 Send this to a friend
Omnium
Further Information

Symptoms Resolved:

Poor Sleep (sleeping through)
Insomnia
Trigger finger
Arthritis pain
Hip pain
Swollen ankles
Waking with more energy
Increased creativity

PEMF has been shown to boost immunity and to increase uptake of supplements and medications. This means, by energizing your cells with PEMF, you may find you can reduce your need for some medicines, (we have already seen this for clients on long-term, neurological treatments).

Swiss Bionic Solutions

One of the reasons we chose SBS PEMF systems is that they include a 'Sensitive' setting – specifically for individuals who are electro-hypersensitive (EHS). However, we have reason to believe that this setting can be effective for many conditions that don't respond well to high intensities.

In fact, SBS devices only generate PEMF at the same frequencies and intensities as those generated by the Earth itself. In other words, they don't artificially stimulate your body with unnatural energies.
Product reviews
Be the first to review this product.