The Perfect Pendulum
The Perfect Pendulum was designed in 1984, based on how the human energy body really works. Along with the Omega Pendulum and the Shendor Pendulum, it is the only dowsing instrument that doesn't cause its operator to accumulate stresses from the subjects being tested.
The Perfect Pendulum has a charged, ovoid shape that attunes your awareness directly to energy responses naturally occurring in your energy field all the time. This means your Perfect Pendulum works without any dependence on, or interference from, your mind.
Mental questions are neither required nor desirable. The Perfect Pendulum responds to three critical 'questions' with one simple method. These questions define every moment of your life:
Where do I need to go or be right now?
What do I need to do right now?
What do I need to not do right now?
The more your choices reflect your present energy responses, the more your fortunes  and awareness will grow.
The Perfect Pendulum includes a free voile pouch and comes with a full 30-day money back guarantee. You have nothing to lose but your confusion!
change your energy to change your life
Please note: Due to our pendulums being made from natural semi-precious stones, small variations in colour and pattern can occur and therefore a particular pendulum may vary slightly from its image.
---
---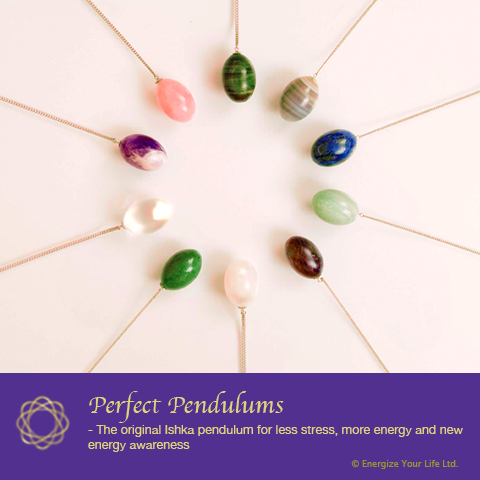 Send this to a friend
The Perfect Pendulum
Product reviews
2 reviews
I have been using the Perfect Pendulum for over a year and have found its testing has made an enormous difference to my life.
We received our lovely pendulums. Absolutely gorgeous. I've never been able to have much success with a pendulum but this one seemed to like me straight away.