Vielight 810
Vielight 810 infrared, intra-nasal, photo-bio-modulation device has a slightly longer wavelength than the 655. It influences the brain directly, particularly the mid-brain and hypothalamus where many of the autonomic nervous system functions are located. It has been used to treat insomnia, migraines, Parkinson's, Alzheimer's and post-stroke recovery.
In a study conducted by the University of Texas, near-infrared energy stimulation produced beneficial effects on frontal cortex functions such as sustained attention, working memory, and affective state (feeling more positive). This state also helps to release the calming chemical, seratonin, which helps alleviate sleep disorders.
NOTE: We no longer stock this product. The Vielight 810 is available through Your Health Basket. Add the code EA5 in the shopping cart for an additional 5% discount on all products from Your Health Basket
---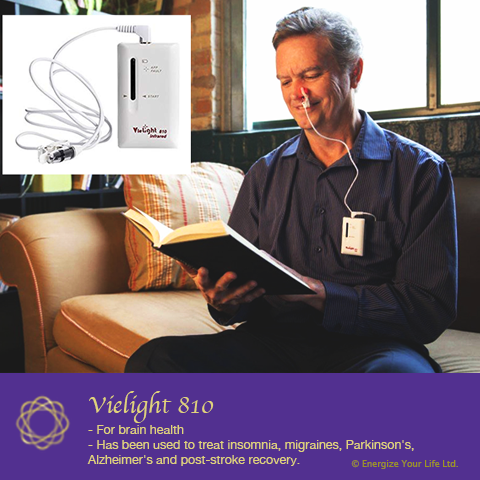 Send this to a friend
Vielight 810
Product reviews
2 reviews
Vielight 810 is the only treatment that has successfully addressed ... four years of chronic tremors, fatigue and fuzzy thinking.
I am already feeling some positive effects, e.g. warmer body temperature (which is nice), and also more clarity ... which is a good feeling!