Life Energy Solutions
Please note we are not out of stock but we are very busy right now. To book your Life Energy Solutions appointments, you can email us or use our contact page to get in touch.
Life Energy Solutions with Stephen & Lynda Kane is a unique opportunity to see . . .
How your energy is affecting your health, relationships, work or other areas of your life
How you can change your energy to start changing the issues affecting you
How you can strengthen your energy to increase your well-being above and beyond merely an absence of symptoms
Life Energy Solutions session is very practical and down-to-earth. In the face-to-face clinic, you will experience where your energy is weak and how you can make it stronger. The stronger your energy is where you most need it to be stronger, the more your problems - even those you've had for many years - naturally fade away.
Many Life Energy Solutions clients have gone on to become Shendo ['energy awareness'] practitioners once they have experienced the extraordinary benefits of this simple but extremely powerful approach to health and all other forms of personal well-being.
We use Skype video for the sessions, (except in the face-to-face clinic), which can easily be downloaded for free at skype.com if you don't already have this on your computer.
Further information on Life Energy Solutions can be found on this link.
Pricing:
Initial consultation with full report = £197
Follow-up session (up to 60mins) with concise report  = £147
Follow-up short session (up to 30mins) with no report = £79
Follow-up mini session (up to 15mins) with no report = £42
Non-session* days = £48 per 15 mins
---
---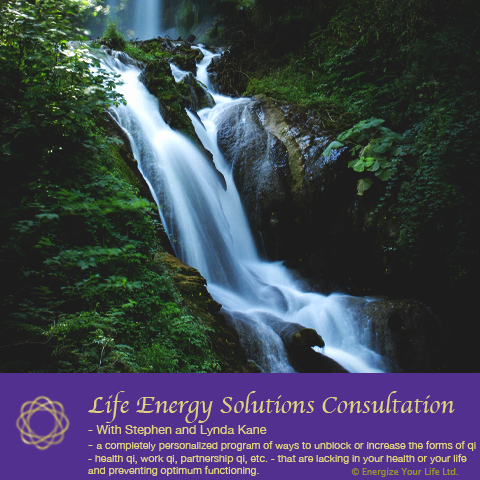 Send this to a friend
Life Energy Solutions
Product reviews
7 reviews
Re-reading the last email I sent you with all my symptoms and life problems, it was quite a surprise. So much has changed! Anxiety is basically gone, I have direction, motivation and am really well ... I feel alive again - in 2 months! It happened so quickly, I am really happy ... Thank you ever so much. I can't speak highly enough of all the guidance you have given me.
I am sleeping all through the night. I feel better than I have for years. I have to thank you for that!
I am fully-booked until the end of October! I want to acknowledge that it's thanks to your work with me. I am having incredible results! And it's all thanks to you!
No sinusitis this winter - that's real progress. My anxiety is so much less, it's amazing. I feel robust in my power at work. People really respect me. I feel like a different person! I've tried so many things, it's been a life journey, trying to find something that is practical and works but is founded on something deep and profound. This really works for me.
Mouth ulcers gone (after years of ineffective treatments), less brain fog, less irritable, energy levels have come back, happier, easier to live with - no more self-diagnosis or treatments! So many thank yous!
I feel like a new person after 3 days. It's unbelievable! I'm coming back to normal (after over a year of feeling exhausted).
My fingers have stopped going white (Raynaulds symptom) ... My hormonal chaos has calmed down ... I can tolerate gluten and dairy better ... My nausea has almost totally gone ... I have moments of feeling like I am going to burst with happy energy.