Returning Life (online course)
Returning Life (online course)
Created by Stephen Kane at the School of Energy Awareness, the Returning Life is a powerful series of energy-cultivating passes (consciousness-generating movements) for restoring and balancing your life and awareness energies. It is one of the root practices of the Way of Life, where shendo practitioners use it to awaken and develop their karma-transforming, essential creativity and talents.
Practising the Returning Life causes life energy or ki to ascend through your body. The more this process occurs, the better you feel and the more your energy generates a higher energy future for you.
The Returning Life is precisely designed to sever weakening relationships - energy connections between you and certain people, places, objects, substances, activities, etc., that drain or damage your energy. The more your energy is released from weakening relationships, the less you find yourself stuck in situations that never get any better or may even seem impossible to change.
The Returning Life is now released as an online course, teaching the first three 'Ascents' (there are 16 in all) of the series - which includes 12 passes - plus the Stations of the Way. This is a simple series of postures that increases your body's energenic capacity - the amount of ascending energy you are capable of holding. The whole routine takes anywhere from 5 to 15 minutes.
The rest of the Returning Life - the other 13 Ascents (52 passes) - are taught in the Way of Life and will be released in another online course. Your login details for the course will be sent to you upon purchase. 
change your energy to change your life!                
---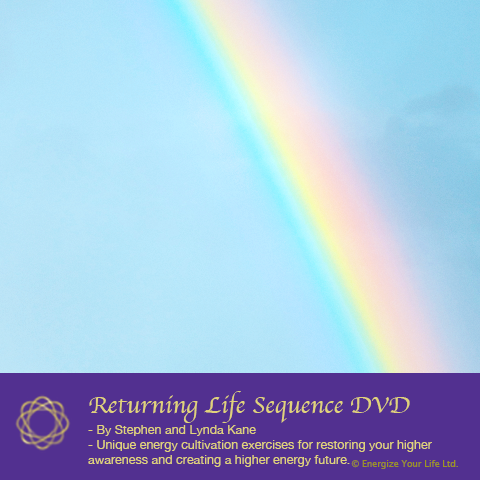 Send this to a friend
Returning Life (online course)
Product reviews
11 reviews
"I've just started the slow form of the Returning Life. I can wake feeling quite heavy and it's amazing how 10 mins of this really does return energy to my body and lasts for the day."
I just did three or four rounds of the Returning Life sequence ... wow what a boost...delightful indeed!
'The Returning Life' has returned to its early morning spot, it makes such a difference!. ...the mind chatter has ceased and attention is now fully on my feet, arm movements, breathing and looking into the distance. A beautiful meditation in motion.
I'm going through my Returning Life sequences again and notice changes immediately in my energies.
I do the Returning Life sequence until the negative energy has lifted up and calm is restored. I am amazed at the inspiration that I then receive and the good guidance, moment-to-moment, in dealing with difficult people and situations. It is so empowering!
I feel strongly that the Returning Life exercises are moving my energy in a different direction ... I feel the energy flow changing but also a real measurable increase of energy.
Can I also use the Returning Life Sequence? I think it is great. I feel better, with a lot of energy after doing it.
Returning Life is wonderful. when I don't do it, it doesn't set me up well for the day. when I do do it, I feel really energised for the rest of the day. I don't wake up feeling that great, but by the second round I'm really feeling better and feel really good by the end.
I've really noticed such a difference back doing the Returning Life and asanas ... It was good in a way to experience the feeling of not doing them to realise what an impact they make!
I have been loving the Returning Life sequence and have been able to do it almost everyday. Most recently i have felt really different after doing the sequence, almost 'buzzing' is the best way i could describe it, i felt very empowered.
I have noticed how amazingly energized I get after a few minutes of the Returning Life ... Yesterday I was really tired and did the RL - then I was not tired at all!