Shendor® Touchwood (Personal)
Shendor® Touchwood (Personal)
The Shendor® Touchwood is the completely portable Shendor, for neutralising bad luck and cultivating good luck or good fortune.
The Touchwood is artisan-crafted from sustainable olive and walnut woods. Each wood is formed to a precise shape. It is both beautiful to look at and delightful to touch. And highly effective in cultivating your good fortune. Charged with life ki, it works to:
Ground out the energies in you underlying 'bad luck' – i.e. preventing misfortunes from manifesting
Open your energy body capacity to be able to hold more 'good luck' (fortune ki)
Transmit the Shendor's fortune energy through space (e.g. in your home or office)
Increase and strengthen the effects of all Energy Eggs and Energy Angels that you may already have
Awaken new awareness in you of right action - actions that lead to higher-quality wisdom, happiness, inner strength and success.
The Touchwood can also be connected with your Energy Eggs which can be left at home on their Transmitters. Neutralising the forms of stress each Energy Egg is focussed on can now be achieved with your connected Touchwood.
You will receive a mini-course on the many applications of the Shendor Touchwood and Shendor Angels following the Shendor Instructions included with your Touchwood.
 change your energy  . . .  change your life 
(Fortune ki)
Note - the Shendor is made from olive wood. Please be aware that olive wood sometimes includes some natural markings. No two pieces are alike. The artisan who makes the Shendor range of products ensures that there are never any tool marks. But there may be straight fissures that look like tool marks. Even though the Shendor ranges of products include the same energies, your Shendor or Energy Egg base will have its own unique character.
---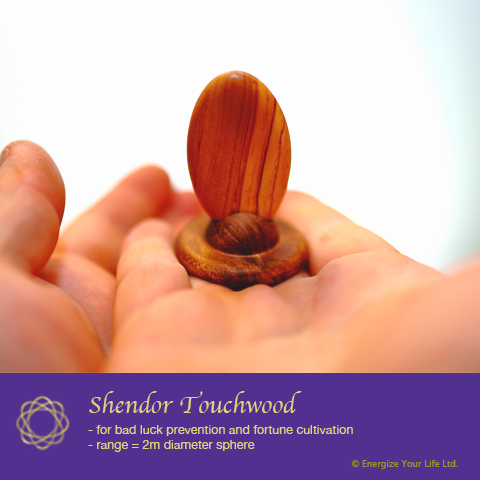 Send this to a friend
Shendor® Touchwood (Personal)
FAQs

Question:

What type of salt should I use in the base of the Shendor?

Answer:

Any dry salt is fine.

Question:

How much salt should I put in my Shendor base? 

Answer:

We recommend that you fill it just short of touching the bottom of the Shendor. But it doesn't have to be precise. This revised recommendation is only because a few Shendor owners live in damp environments and their Shendor became discoloured through contact with the salt. Please note, should this happen, the discolouration does not affect the Shendor's functioning.

Question:

How often do I need to change the salt?

Answer:

The less salt there is, the more often it needs changing. We recommend changing it every month, In theory, it's usually good for 3 months, But we don't know, for an individual, how much stress they are discharging - maybe they have lots of misfortunes. So, since salt is cheap, fill the hole enough for it to be just under the Shendor (unless you don't care about discolouration) and change monthly (more or less).

Question:

Do I need to do the attunement process again when I change the salt?

Answer:

No, this is not necessary.

Question:

Do you have a recommendation for placement of the Shendor base?

Answer:

Yes, we recommend that you place the Shendor base on a flat wooden surface. 

Question:

Once I have done the attunement process do I need to always keep the Shendor orientated North-South (concave sides are facing East-West) when it is set up as an angel?

Answer:

Yes.

Question:

Should I keep the Touchwood with me?

Answer:

The more you keep your Shendor Touchwood with you (and the more you use it), the more beneficial energy(fortune ki) you receive from it. Since the Shendor can have a stimulating effect, some people find they don't tolerate the Touchwood itself with them while they sleep. Using the Touchwood in the mini-angel set up, kept on your bedside table, is usually not stimulating at night.

Question:

Should I keep the Shendor Touchwood on my left side?

Answer:

The Shendor Touchwood can be kept in either side of the body in a pocket, bra or sock. Anything made of metal, including the Omega pendulum, should be kept elsewhere

Question:

Which stresses does the Shendor Walking technique release from the energy body?

Answer:

Prana Walking with the Shendor Tochwoodreleases misfortunes in different areas of life according to our individual karmas. So if, say,yourinner strength kiis blocked in the area of your work, then fatigue/work stress is one of the stresses released from your body while walking. 

Then over time, as more energy (inner strength ki) is available to you, you will be able to rise to the challenges or make positive changes to your work situation.

Question:

Is there a minimum distance between the Shendor Angels and a taller object or a wall before signal attenuation starts occurring?

Answer:

Yes, the miniumum distances depend on the size of your Shendor Angel as follows:

Archangel           23cm

Large Angel        15cm

Small Angel        8cm

Travel Angel       5cm

Touchwood        3cm

So if you have your Touchwood set up as a Shendor Angel, you should ensue it is located at least 3cm away from the nearest wall or large object.

Question:

If I own a Shendor Touchwood and a Shendor Pendulum, should I keep them both on the left hand side of my body?

Answer:

We recommend that you keep the Shendor Pendulum on the left and the Shendor Touchwood on the right side of your body.
Product reviews
27 reviews
I found the Shendor practices very helpful for my Electro-HyperSensitivity ... I feel about 70% better and am going back to work ...
My Shendor Angel arrived a week early. It is beautiful. I'm so happy. A few minutes into setting it all up I realised I need to play the violin again. 10 minutes later, a woman posted an advert selling a very nice violin on Facebook marketplace which my energy nudged me to see within 7 mins of her posting it. I drove to her under multiple rainbows - the last one landing on top of her building as I approached. Now I have a very good violin made by a master German violin maker, beside me here with my Shendor Archangel. Its previous owner sold it to me for less than a quarter the price of what it's really worth. Fortunes!!
I had a severe bout of hay fever yesterday ... Then I tested everything I'd eaten in the past few hours and found a strong reaction to a banana bread I'd made. I neutralised the stress from that with my Shendor Touchwood connected to a few Energy Eggs and my hay fever subsided in a few minutes.
I set up the Shendor Angel and the Touchwood in the evening. The next morning, I had no pain in the right side of my lower back or base of my spine. I was pleasantly surprised!
The hip pain, a couple of months ago, stopped me walking. Last month I found that my sofa was emitting a strong stress. I neutralised it with my Shendor Touchwood and it subsided immediately by 90%.
[My Shendor Touchwood is] in my pocket. I have more energy that I've had in, well a decade maybe :-)
My Shendor Angel has arrived and is absolutely beautiful!
After I got my Shendor Touchwood I achieved record sales for that month. Then I lost it. Now I've found it, it Looks like this could be a very busy month again!
I have automatically been reaching for Shendor Touch the last few mornings as soon as I woke, and felt really great for the rest of the day!
... my general energy is great – I was very fatigued the day I picked up my Shendor angel and after an hour it was gone and not come back. I also think I can tolerate more food. And my blood pressure is now down to 110/66 – fell from around 162/92 after I got the Shendor. I just love my Shendor !
Having some very powerful stuff happening with the little Touchwood. I love it!
... it's quite gloomy and foggy [in this vacation rental] and my happiness mood dipped a lot ... I neutralised the stress with the my Shendor and my mood bounced right up within minutes. It feels, as always, so amazing to have a tool like this in my hand!
... just thought i'd let you know that i'm having massive improvements in my thinking.. i.e. being able to consider things in my mind that I have not been able to do for a long time... it feels like my brain is working better, thinking about things other than the usual rubbish in my head. 
Two weeks after receiving our Touchwoods, I called to cancel my television subscription. The man said, 'Since you are cancelling, I wouldn't normally say this, but I see you were overcharged at some point so I'll refund you.' A few days later, almost £1500 turned up in our bank account!
... it also increased our financial wealth in a big way. We got a surprise check in the mail that enabled us to pay off the truck. ... We also have enough money to fix up the rental which we did not have before.
... it helps with food sensitivities. I've been able to eat bacon without swelling for the first time in many years.
I am pleased to report that I was comfortable with the throng of workers leaving their offices at 5:00 PM, the deafening construction noise, the jammed traffic, the sirens and the rain. Indeed, carrying my Shendor Touchwood ... seems to have given me protection from the stress and the crowd. Thanks a million!
The Shendor has brought some really deep healing - also, no pain during operation, no bleeding, no trauma
I no longer need some of the supplements I was taking.
The Shendor is so beautiful and full power – it brought back life energy to me in the moment when I had so little of it. I love how it feels in the hand.
I have slept well with the Shendor by my bed and I've had lots of energy all week.
My Shendor Touchwood has arrived. It is really lovely - something so beautifully simple about it! Huge congratulations on your wonderful creation. I am only on day 2 with it- but already have managed to neutralise the stress in my office. So that has given me my workplace back!!
The Shendor ... is helping me sleep better too
My usual pattern is to fall asleep rather easily, sleep for one hour and then wake up thinking I have slept entire night. Then I am not able to go back to sleep for a few hours. Last night I picked up my Shendor and practised the Shendor Touch. After a while I put it back in place and fell back to sleep until the alarm went off. Thank you!
I just had a very relaxing flight - was curious to see if travelling with my Shendor helped with flying anxiety ... and it did. :)
I'm really enjoying working with my new Shendor! I'm using it with my Guardian Energy Egg for neutralising stresses,
... these are the best nights I've had in years, something that Melatonin, 5 HTP or CBD oil, couldn't accomplish!