Shendor® Travel Angel
The Shendor® Travel Angel is the smallest of the permanent Shendor Angel family. The Travel Angel's fortune space covers the average bedroom. It can be connected with all your Energy Eggs or previous-generation Energy Angels. 
A seven-part mini-course is included with your purchase of the Small Shendor Angel. 
The Shendor Travel Angel is artisan-made from two different woods. Each wood is formed to a precise shape that works optimally for:
Grounding out 'bad luck' – i.e. preventing misfortunes from manifesting
Opening your energy field to be able to hold more 'good luck' (fortune ki)
Transmitting the Shendor's fortune ki through space (e.g. your home or office) to everyone within its range
Increasing and strengthening the effects of all Energy Eggs and previous-generation Energy Angels
Awakening new awareness of right action - actions that lead to higher-quality wisdom, happiness, inner strength and success 
 change your energy to change your life 
Note - the Shendor is made from olive wood. Please be aware that olive wood sometimes includes some natural markings. No two pieces are alike. The artisan who makes the Shendor range of products ensures that there are never any tool marks. But there may be straight fissures that look like tool marks. Even though the Shendor ranges of products include the same energies, your Shendor or Energy Egg base will have its own unique character.
Additionally, olive wood can increase and decrease in volume, can react to different climates and temperatures and with bigger, thicker pieces the change can be more noticeable. We recommend that you place your Angel away from heat sources. 
---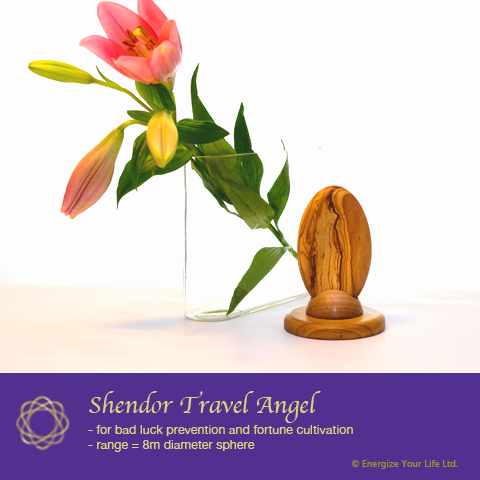 Send this to a friend
Shendor® Travel Angel
FAQ

Question:

What type of salt should I use in the base of the Shendor?

Answer:

Any dry salt is fine.

Question:

How much salt should I put in my Shendor base? 

Answer:

We recommend that you fill it just short of touching the bottom of the Shendor. But it doesn't have to be precise. This revised recommendation is only because a few Shendor owners live in damp environments and their Shendor became discoloured through contact with the salt. Please note, should this happen, the discolouration does not affect the Shendor's functioning.

Question:

How often do I need to change the salt?

Answer:

The less salt there is, the more often it needs changing. We recommend changing it every month, In theory, it's usually good for 3 months, But we don't know, for an individual, how much stress they are discharging - maybe they have lots of misfortunes. So, since salt is cheap, fill the hole enough for it to be just under the Shendor (unless you don't care about discolouration) and change monthly (more or less).

Question:

Do I need to do the attunement process again when I change the salt?

Answer:

No, this is not necessary.

Question:

Do you have a recommendation for placement of the Shendor base?

Answer:

Yes, we recommend that you place the Shendor base on a flat wooden surface.

Question:

Once I have done the attunement process do I need to always keep the Shendor orientated North-South (concave sides are facing East-West)?

Answer:

Yes. 

Question:

Is there a minimum distance between the Shendor Angels and a taller object or a wall before signal attenuation starts occurring?

Answer:

Yes, the miniumum distances depend on the size of your Shendor Angel as follows:

Archangel           23cm

Large Angel        15cm

Small Angel        8cm

Travel Angel       5cm

Touchwood        3cm

So if you have a Shendor Travel Angel, you should ensure it is located at least 5cm away from the nearest wall or large object.
Product reviews
5 reviews
My Shendor Angel has arrived and is absolutely beautiful!
The Shendor has brought some really deep healing - also, no pain during operation, no bleeding, no trauma.
... these are the best nights I've had in years, something that Melatonin, 5 HTP or CBD oil, couldn't accomplish!
I set up the Shendor Angel and the Touchwood in the evening. The next morning, I had no pain in the right side of my lower back or base of my spine. I was pleasantly surprised!
Since the Shendor Touchwood and its taller version have reached my home, my energy has changed a lot. My life is getting livelier and I am out and about more.